Description
Click Here For Installation Instructions
As horsepower numbers rise, so do temperatures through the GR Supra's intercooling system. In order to cool down that hot intake charge air coming from the turbocharger, you need a highly efficient heat exchange process which is where the AMS Performance 2020+ Toyota GR Supra Intake Manifold comes in. With our unique parallel twin core design, we are able to route coolant flow in the most efficient way possible giving us unparalleled cooling efficiency over the competition. The AMS Performance 2020+ Toyota GR Supra Intake Manifold also provides for an auxiliary port fuel injection solution by way of its flush mounted -8AN fuel rail, giving the atomized fuel a nearly unimpeded path to the combustion chamber. Our superior engineering yields superior results.
1250+ HP RATED PARALLEL AIR-TO-WATER INTERCOOLER CORES FOR SUPERIOR COOLING

AUXILIARY PORT FUEL RAIL WITH -8AN SIDE PORTS FOR EXPANDED FUELING OPTIONS

COMPUTATIONAL FLUID DYNAMICS (CFD) VERIFIED DESIGN FOR EVEN AIRFLOW DISTRIBUTION

PROPERLY ANGLED PORT INJECTION FOR IMPROVED FUEL ATOMIZATION

135% LARGER CORE AREA COMPARED TO OEM

COMPATIBLE WITH AMS 3″ AND OTHER OEM-STYLE CHARGE PIPES

1″ INNER DIAMETER COOLANT HOSES PROVIDE 148% SIZE INCREASE OVER OEM

COOLANT PORT DESIGN ALLOWS FOR CUSTOM ICE TANK IMPLEMENTATION

THREE (3) EXTRA -4AN ORB PORTS LOCATED ON PLENUM FOR VACUUM SOURCE POINTS

INCLUDES ALL ANCILLARY COMPONENTS, INCLUDING ALL HARDWARE, LINES, AND FITTINGS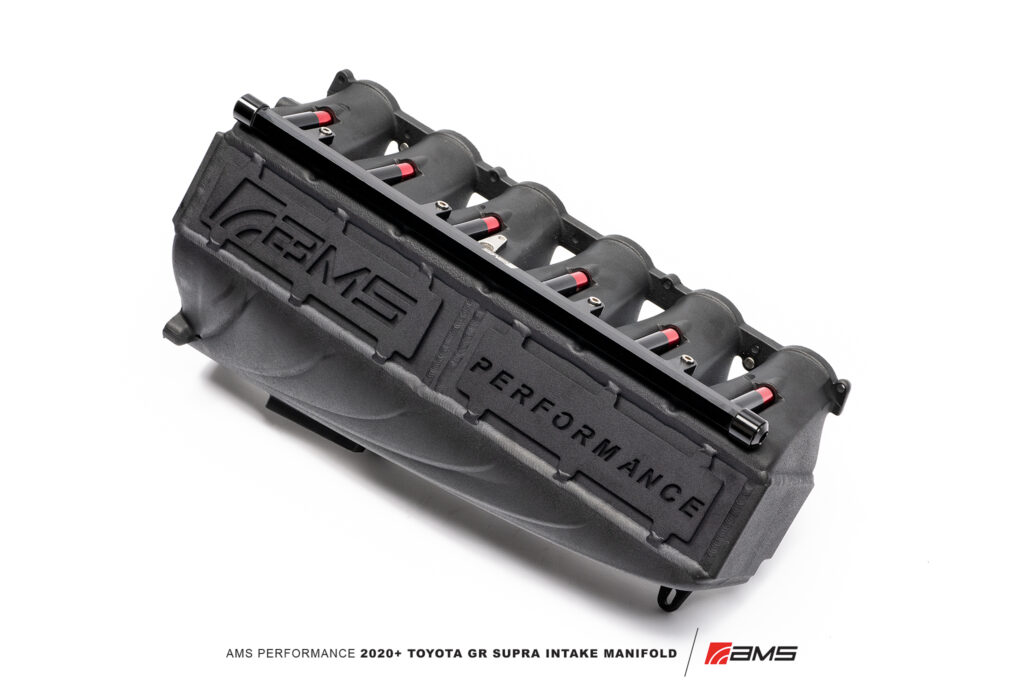 ENGINEERED TO WIN
The AMS Snailworks© Engineering Team has designed the AMS Performance 2020+ Toyota GR Supra Intake Manifold to be a direct bolt-in install without hacking up your prized possession. The manifold is fully compatible with A/C, power steering, oil filter cap, and all other factory options, and is easily reversible back to stock with a few inexpensive replacement parts. The design of the new AMS Performance 2020+ Toyota GR Supra Intake Manifold positions it to be the best performing, highest quality, and easiest to install manifold on the market.
Our AMS Snailworks© Engineering Team has spent hundreds of R&D hours refining the AMS Performance 2020+ Toyota GR Supra Intake Manifold to be as efficient and effective as possible. Utilizing Computation Fluid Dynamics (CFD) analysis software, our team has been able to verify the geometry of our A356 T6 cast aluminum plenum and runners to optimize mass flow rate distribution to each cylinder. By taking this additional design step, our engineers have gone the extra mile and allowed for an equalization of airflow to within .5% to each individual cylinder port!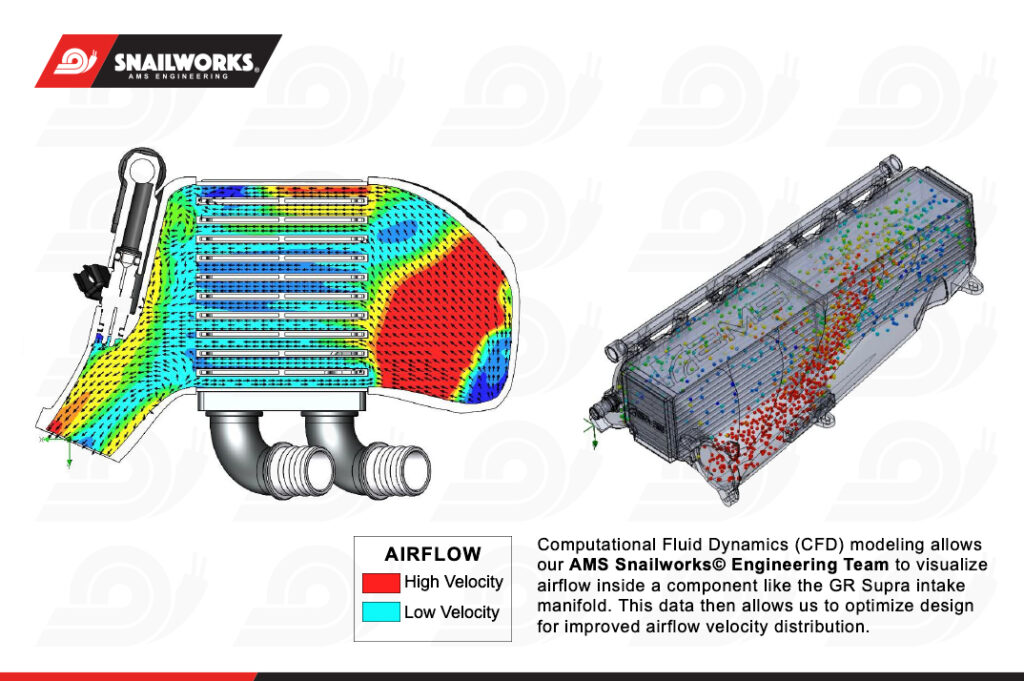 PROPERLY IMPLEMENTED PORT FUEL INJECTION
The 3.0L B58 engine found in the GR Supra is a BMW-sourced German engineering marvel. Unfortunately, the factory direct injection system is not conducive to making high horsepower or using ethanol flex fuel, which has led many owners to install port fuel injector spacers sandwiched between the cylinder head and factory intake manifold. During the R&D process of the AMS Performance 2020+ Toyota GR Supra Intake Manifold, our team knew they wanted to incorporate an optimally designed secondary port fuel injection solution as an option for customers.
By moving the injector ports onto the manifold runners themselves, we are able to properly angle injector nozzles directly at the intake valve and combustion chamber instead of at the wall of the intake runners where fuel can puddle. Our team went one step further with this concept by flush mounting the -8AN fuel rail to the manifold and pocketing the runners to allow the injectors to have an even more direct path to spray perfectly atomized fuel to the engine for maximum combustion efficiency.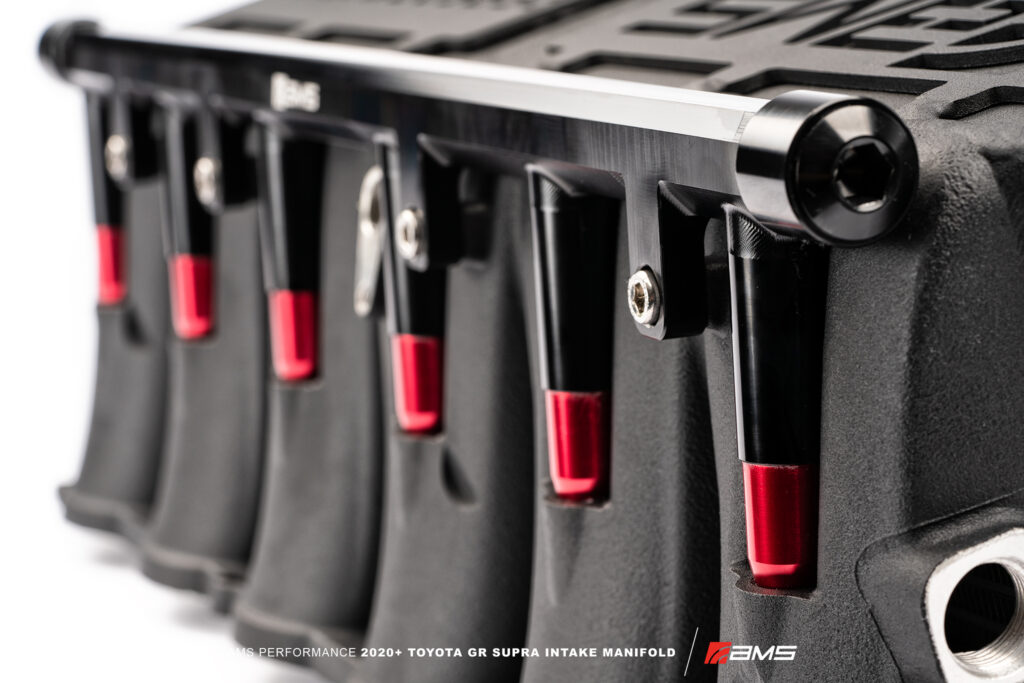 PARALLEL SPLIT CORE DESIGN FOR OPTIMIZED COOLANT FLOW
The most significant design element of the AMS Performance 2020+ Toyota GR Supra Intake Manifold is our parallel split core design that allows us to route coolant from the middle of the unit instead of from one end to the other. This coolant flow routing reduces water pressure drop and increases flow rate at a given head pressure, meaning coolant can easily move through the system and expel heat efficiently. This split coolant flow design delivers consistently cool water to every cylinder by matching the coolest water (fresh from the heat exchanger), with the coolest air (furthest point through the intercooler), to maximize heat transfer across the length of the cores.
The 1250+ HP rated twin cores themselves have also been optimized for not just coolant flow, but for airflow throughput as well as reduced pressure drop. The AMS Snailworks© Engineering Team has struck a fine balance between airflow to the engine, and allowing the heat exchange process to cool that air. This is done by optimizing the dimensions of our proprietary parallel cores to allow for intercooler design elements like our custom spec fin densities on both coolant and air sides, fin height, and water passage size.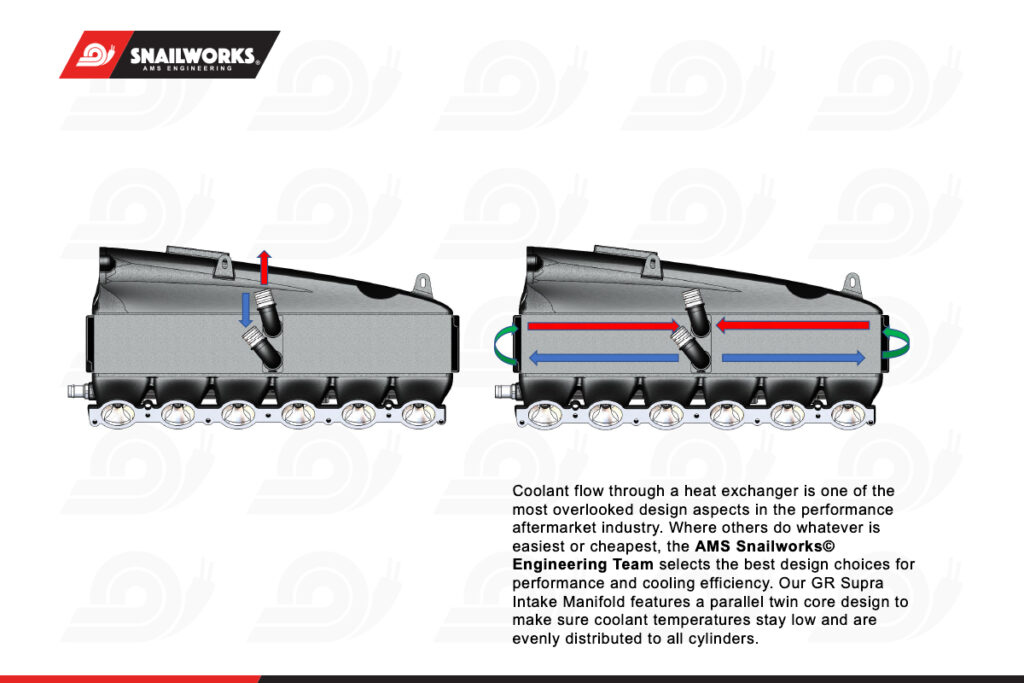 INCLUDES
AMS Performance Intake Manifold w/ Parallel Air-to-Water Intercooler Cores
AMS Performance Auxiliary Fuel Rail and Port Plugs (Injectors Available Separately)
AMS Performance Ancillary Components — Including all Hardware, Lines, and Fittings
NOTES
Fuel rail is designed for Bosch injectors such as Injector Dynamics 1050.34.14.14.6. Other Bosch injectors may be compatible with 14mm bore lower and upper o-rings and no top cap.
Does not fit with OEM engine cover.
Designed for use with OEM oil filter cap. Aftermarket oil filter cap fitment not guaranteed.