Description
The AMS Performance R8/Huracan DL800 Transmission Titanium Hardware Kit has been developed as a reusable solution to the stretch-prone OEM aluminum hardware found in the Audi R8 and Lamborghini Huracan. Over time, the factory bolts can stretch and loosen, causing oil to leak out of your transmission. Not only is this a problem for your garage floor, but it can lead to transmission damage if repair is neglected. Made from lightweight 6Al-4V titanium and 4130 steel, this hardware kit is completely reusable unlike the the OEM aluminum bolts that require replacement once removed.
Aerospace-grade 6Al-4V (Grade 5) Titanium and 4130 Chromoly Steel Material
Most Complete Bolt Kit on the Market
Lightweight and High Tensile Strength
Fixes Leaky Transmission Cases
Capable of Being Reused Unlike OEM Torque-to-Yield Aluminum Bolts
Direct Install Hardware – Completely Reversible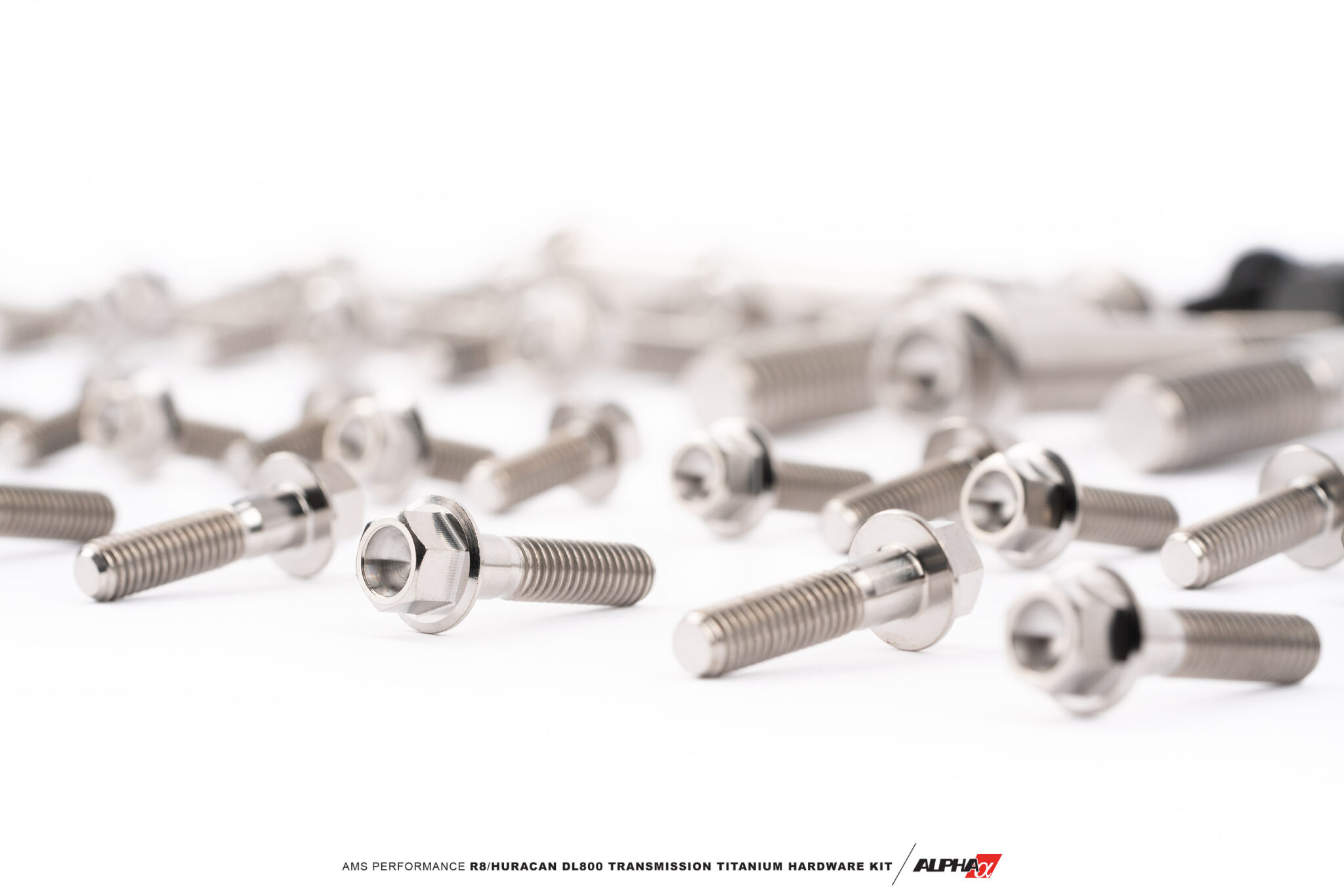 TRANSMISSION HARDWARE KIT INCLUDES
6Al-4V Titanium Transmission to Engine Bolts
6Al-4V Titanium Oil Pan/Sump Bolts
6Al-4V Titanium Mechatronic Cover Bolts
6Al-4V Titanium Basket Mounting Bolts
6Al-4V Titanium End Plate Bolts
6Al-4V Titanium Half Shaft Mounting Bolts
6Al-4V Titanium External Mid Plate Bolts
6Al-4V Titanium Internal Mid Plate Bolts
ARP 4130 Chromoly Steel Differential Cover Bolts
APPLICATIONS
2014-Current Audi R8 w/ S-Tronic (Incl. Plus & Performance models)
2015-Current Lamborghini Huracan (Incl. Performante & Evo models)
PRODUCT NOTES
All but two bolts can be installed without removing the transmission from the chassis. These two internal mid plate bolts require transmission case disassembly to install, so it is recommended that these bolts are only utilized during a transmission build or repair service.